Your Steel Balustrades is the entrance to your home, it is the first impression of your space. Why would you settle for less than the best?
We offer a wide range of security gate, driveway gate and steel gate designs to suit your requirements.
When considering your new steel gate it is very important to always think about the end result you would like to achieve. We have curated our popular range of proven driveway gate & steel gate products to allow you a smooth experience as a potential customer. 
We know the story and sadly, have been guilty of it in the past, you contact a supplier and they take ages to come back to you. To this end we have designed an online store for our most popular steel gate design types where you can design your own driveway gate or pedestrian gate and obtain indicative pricing without having to wait on someone to call you back! 
From the selection below you will be guided either to our shop where you can obtain instant pricing while you custom design your driveway gate, security gate or pedestrian gate. Alternatively you will be able to contact us with the design reference directly from any picture below to enable us to help you with pricing on your very custom steel gate design faster. Please remember that all our products are made to order and to your requirements at our factory in Cape Town, South Africa. 
Steel Balustrades: What Are They And Why Do They Matter?
Perhaps you've heard the words 'steel balustrades' before, but you weren't entirely sure what it meant. Well, if you own a balcony, or you've stepped foot on a balcony, then you likely know precisely what a balustrade is. Almost every balcony has balustrading as a means of protection and as a measure of safety, but balustrades aren't only for balconies, and their functions go beyond just safety. This article will take you through the basics of steel balustrades, demonstrating their usage and significance as an architectural element in any household.
What Are Steel Balustrades?
Whether it's on the edge of your balcony, lining the terrace, surrounding the pool, lining the roof or scaling the staircase, steel balustrades are useful in many different ways and many different scenarios. A steel balustrade refers to a series of vertical columns that are connected by one or two horizontal pieces that form the foundation for a handrail. Together, these elements form a sort of fence, that works as a barrier between two areas. Balustrades are commonly installed in the following areas:
Rooves or rooftops that are accessible to the general public
Ramps, particularly for ease of access for disabled persons
Stairways
Bridges
Open corridors and hallways
Balconies and verandahs
Ship decks
Outdoor patios or decks
Mezzanines in loft apartments or houses
Mezzanines in theatres
Stadiums
Delineated footpaths
Balustrades can either be decorative or purely practical, but either way, they are valued for their many different advantages and functions. There are a plethora of styles, sizes and shapes available, but ultimately they are designed to improve safety levels. Furthermore, it should be noted that most balustrades are designed according to building codes that are particular to the state where they were produced or manufactured. Most architects, designers or producers align their balustrades with the specified housing provisions that determine height requirements for residential, commercial and industrial spaces.

What Is The Brief History of Balustrading?
Balustrades are an architectural element that is commonly associated with the classic renaissance period. During the Italian Renaissance, it was common for architects and civil engineers to mould small, shapely colonnettes that were modelled somewhat like bottom-heavy vases. Renaissance architects and interior designers favoured forging these opulent designs with stone or wood, and always tended to keep the edges of their works curved.These colonnettes emulated large-scale columns that were so popular in Ancient Grecian and Roman architecture. And the opulence of the antiquity's iconic column is still visible in the smaller-scale designs and installation of balustrading in Italian and Assyrian palaces during the 15th century. Classic examples of these balustrades can be found in many traditional homes in Florence, Pitti Palace, Siena Cathedral and all over Italy today. These designs were then adapted to suit other cultural preferences and trends.For example, there are Georgian, Victorian and Edwardian iterations of balustrades and many other versions whose styles were defined in other historical periods, such as the medieval or baroque periods. Today, balustrades have been modified and adjusted to suit modern homes. Balustrading is available in a massive range of materials, including stone, wood, steel, wrought iron, aluminium, glass, and even PVC plastic or vinyl. With such an extensive history of artistic and cultural references to choose from, many clients often come to Glow Innovations to make requests for balustrading that has been customised to mimic a certain period or era.
Customisable Ballustrading With Glow Innovations
Whether they want the same medieval balustrade that Juliet clutched while musing to Romeo from her balcony or the traditional balustrades that were televised alongside Prince William and Duchess Kate Middleton when they were greeting people as man and wife for the first time, Glow Innovations does their best to provide whatever look and feel the client desires. If you're unsure what you want, but you have an idea of the ambience and aesthetic that you want to create, you can look through the massive library of references that are available on Glow Innovations' website. The examples shown here can be adapted to suit your specific needs, and the staff would be happy to offer you guidance in any way. Glow Innovations prides itself on creating wooden, glass, iron or steel balustrades according to local standards and safety regulations.If you've already done your research about the styles, materials and dimensions of your desired balustrades, and you have a clear idea in mind already, then you can simply describe your product of choice to our sales representatives, or plug in your details and design on our website, and we'll get back to you with a free quote. If you're happy with the price range, which is always set at competitive rates based on the market and cost of production, then we can proceed with designing blueprints and generating samples. When the balustrades are ready, they will be installed by a certified, qualified professional from our skilled staff.

What Is the Difference Between Banisters, Balusters and Balustrades?
Balusters are vertical posts or colonettes that support the handrail. Balusters are also referred to as posts, spindles or legs. They often look like vases, and they are spaced so that there is an even gap between the legs. Bannisters are used to refer to the horizontal handrail that sits atop the balusters and connects them. Bannisters are generally associated with stairways, as they form the foundation upon which most people lean their body weight and support themselvesBalustrades are comprised of several balusters which are connected together by a bannister. The balusters hold up the handrail or bannister, offering reinforcement between the rail and the ground. Collectively, the entire structure – including the bannister and the balustrade – is known as the balustrade.
Why Do You Need Steel Balustrades?
Steel balustrades offer additional protection in your home and keep your property safe. The balustrades can ward off both stray animals and potential thieves. For example, balustrades with closely spaced balusters prevent animals from crawling through to your deck.
Similarly, having balustrading on your patio or verandah can also ward off intruders, as it signals to them that your house has measures in place to prevent easy entry and exit. Balustrades are also particularly useful to keep the furniture on your porch safe so that if any extreme weather events happen, you won't be at risk of your belongings being washed or blown away. What's more, steel balustrades prevent visitors and residents from overstepping their spatial boundaries and falling or hurting themselves.
Balustrades keep your pets, children and even adults from tumbling off of the porch, stairs, mezzanine or verandah, and getting injured. They are, conveniently, able to do this without blocking off the view and creating harsh enclosures as would be the case with a wall or gate. Finally, balustrading also offers a useful bit of assistance to children, elderly people and people with disabilities.
While people travel up the stairs or around the porch, the steel balustrades provide them with something to grip on and support themselves. They offer a sense of stability and balance while preventing one from falling over an edge unexpectedly. This creates peace of mind and prevents anybody from experiencing vertigo.
Building Regulations and Code
Building owners are responsible for ensuring that their porches, verandahs and stairways are built according to SANS code. The SANS code is the South African National Standards Codes of Practice or the South African Bureau of Standards Codes of Practice. Building owners and contractors must ensure that a qualified engineer has signed off on the balustrade's compliance with the requirements and regulations in place. For example, The Balustrade SANS 10104 code says the following:
"Hand railing and Balustrade shall be designed and installed that it safely supports all loads to which it is likely to be subjected during service (4.1) Balustrade in a harsh environment shall be designed to resist corrosion (7.1). Balustrade should be inspected for evidence of wear and tear or reduced strength and replaced or renewed if 20% weaker than original installation. (4.7.2)– The height of balustrade shall not be less than 1m (5.1) – In public places there shall be no gap bigger than 100mm (5.2.1) – The finish of handrail should be smooth (5.4) – It should be visible from at least 7.5m away (5.5)"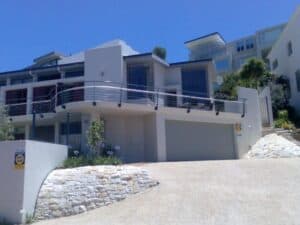 Increased Property and Aesthetic Value
Introducing balustrading to your home can really help with curb appeal and aesthetics. First impressions are incredibly important when it comes to property value, so the addition of well-crafted, high-quality balustrading can add value to your home, making it a good source of income when you want to move out and resell. What's more, balustrading can really exemplify your personal tastes, style and interior design preferences in a visual and functional way.
Whether you pick Georgian, Victorian, Edwardian or Italian Renaissance style balustrading in steel, stone or PVC, it will be an instant demonstration of your style. Many property buyers tend to look for these design features when shopping for a new home, as they are a great way to depict personal style. From a design perspective, balustrading is very necessary for the front of any house – and most designers will tell you that an equal amount of time, energy and money should be spent outside and inside the house.
One of the best things about Glow Innovations' balustrading services is that you can customise the balustrades completely. Depending on what you want, Glow Innovations' qualified staff members can offer you assistance in deciding how to best match the balustrade to your house's architectural style, outdoor landscape and neighbourhood. Glow Innovations will be there to offer guidance on everything from length, height, material, style and decorative embellishments. With a massive portfolio of previous projects, Glow Innovations can also help you to decipher between decorative embellishments, brainstorm creative elements and pick the perfect colour palette.
Invest in Glow Innovations' Steel Balustrades Today
Glow Innovations has a wide range of balustrading options for homeowners and contractors to draw inspiration from. With help from experts in the balustrading field, the process can be made incredibly easy, and before you know it you'll have all of the functional and aesthetic benefits of steel balustrades (or any other kind of balustrade, for that matter) in your home. And that's not all that's available from Glow Innovations – you can also request helpful services with the following:
Driveway Gates
Pedestrian Gates
Security Gates
Fencing
Burglar Bars
Electric Fencing
Custom Engineering
Structural Steel Work
Automation and Electronics
Whether it's for your front deck, balcony, poolside or stairs, balustrading offers you safety and security. When built to code by qualified professionals, you can rest easy knowing that your visitors and residents won't be at risk of injury or vertigo. Getting your steel balustrades doesn't have to be an administrative hassle or particularly expensive either, as Glow Innovations offers competitive prices and excellent customer service. If you'd like to get started, you can simply request a free quote or contact our sales representatives directly today.