Installing a security gate on your property is a necessity for any South African citizen. Making sure that your security gates are automated is another vital step in securing extra security on your property. Here at Glow Innovations, we offer a broad array of security gates for your private property and business alike. We cover everything from creation to installation and strive to produce high-quality products across the board. Our customisable options when it comes to security gates allow you to let your creativity run wild. We're here to help you see your visions for security gates come to life and we have a professional team to do just that.
If you have a design for a security gate in mind, don't hesitate to get in contact and tell us about it, or browse through our catalogue for some eye-catching security gate designs. If you'd like to deck out your security gates with automated features and an intercom, then take a look through this article. In this quick guide, we will cover everything you need to know about the installation of Glow Innovations security gates as well as automation and electronic features, as well as maintenance. Glow Innovations has everything you need to succeed when you're kitting out your property with the best security elements.
Glow Innovations Security Gates:
At Glow Innovations, we offer a bespoke range of steel security gates for you to customise to your liking. Below are some of our security gate options as well as the customisable features included with each category. Protect your property with the best of the best and buy your security gates from Glow Innovations.
1. Driveway Security Gates:
Our driveway security gates come in three customisable options. You can choose between a plain steel frame security gate, a woodclad gate or a driveway gate with NuTec textured slats. Regardless of what you choose, you're sure to make a statement when you install one of these bold designs. Your driveway gate is the first thing guests will see when arriving at your residence, you'll want your driveway gate to give the best first impression of your property. Glow Innovations security gates will help you do that. Our driveway gates are automated to give you easy access in and out of your property.
2. Pedestrian Security Gates:
Our pedestrian security gates are also available in three different customisable options. You will be able to choose from steelwork designs to wooden slats and textured or smooth NuTec materials for your pedestrian gate. Our pedestrian gates are useful for ensuring security within your home and with an added intercom, your business will benefit from one of our gates too. Along with your gate colour and cladding, we also offer a variety of additional gate features like steel spikes and steel-cast moulds to allow you to personalise your gate design.
Security Gate Installation Options:
When it comes to having your chosen security gate installed, you have a few options to choose from. When browsing through our website and deciding on your design of choice, you're sure to find the right option for you. However, if you can't find the exact installation option you're looking for then you can select the closest option and we'll have a chat about it on the next step. Here's a quick list of the installation options you can choose from:
Full DIY: If you opt for the full DIY process this means you'll be handling everything except the making of the gate by yourself. It's up to you to send us the right measurements you require for your security gate and we'll get to work crafting it to your liking. Once the gate is complete we'll let you know when and where you can pick it up. After that, the installation process is entirely up to you.
Keep in mind, however, that a DIY installation of a driveway gate will require sand, stone and cement that we won't be able to ship or deliver to you. So make sure you have all the right materials on hand to get the job done. What the DIY process does include is an installation guide covering all installation instructions as well as telephonic support and freely-granted advice from our team of professionals.
When it comes to driveway security gates, we will supply you with track lengths that will span your entire driveway entrance perfectly. This is necessary for preventing tire damage and allowing your driveway gate to open all the way. These tracks will also be supplied in two equal lengths that will need to be joined together on site with the provided connection brackets. If you're going for the DIY process, you'll have to handle this one yourself.
Measurements: This option is also entirely DIY when it comes to installing your security gate. The only difference is that we will come to take measurements for the design and build of your security gate on your behalf. Once we've got the right measurements, our dedicated team will get started on building your security gate.
We'll give you a call when it's time to collect your gate, and then you're free to handle the installation process from there. Should you feel you might need some additional assistance, take a look through our convenient installation guide, and don't hesitate to give us a call and we will answer whatever questions you may have about the installation process.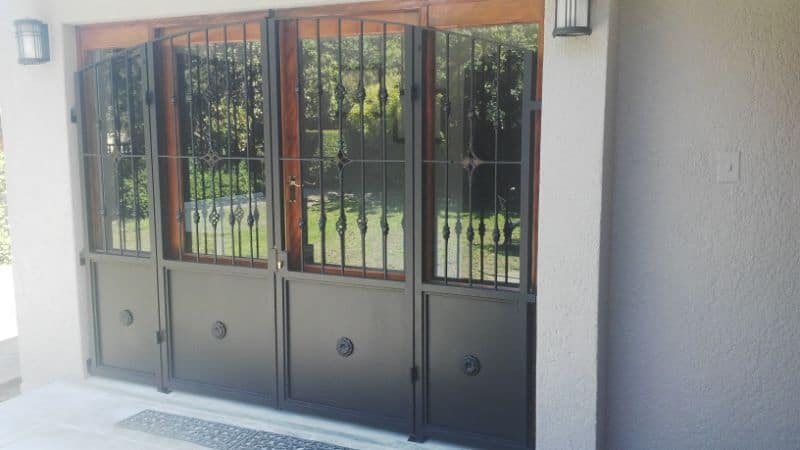 Delivery: Picking this option means that you will be supplying the final measurements, we'll be building the gate, then we'll have the gate shipped to you for you to install yourself. Shipping prices will depend on where exactly you're having your gate delivered to. Delivery of all gates within the Cape Town area will be costed, however, if you're having your gate sent to outlying and national areas, you will be subject to a shipping quote.
Measurements And Delivery: This option covers the same process as above, only we'll come by to take the measurements ourselves. Once we've got the right gate measurements, we'll build your gate and have it shipped right to your door. Keep in mind that standard costs for delivery will only apply within the Cape Town area. Anything further away will require a shipping quote, so make sure you're prepared for that.
Full Service: The full service package means that we will cover absolutely everything. You will be free to kick back and relax and let the vetted experts handle the process. We will come by to take the measurements for the installation of your gate. We'll then craft the ideal security gate for your property and make sure that it's a perfect fit. After that, we'll head back to your private property and install the security gate on your behalf.
You won't have to lift so much as a finger when you pick this convenient option. The full service package consists of all materials, site-consumables and labour required along with transport in and around the Cape Town area. The full service options means that we'll take care of everything, all you have to do is pay for the process and put your feet up while our Glow Innovations team gets to work.
Security Gate Maintenance:
Maintaining your security gates has never been easier when you work with Glow Innovations skilled designers. No matter what colour you decide to paint your gate in, you'll be able to touch it up when needed thanks to the thoughtfulness of Glow Innovations. All of our gates are painted with Plascon Velvaglo Waterbased Enamel, and can be easily touched up on site when needed. Along with everything you need for your security gate, we will supply you with a complimentary touch-up paint supply for maintenance purposes after your gate has been installed.
Glow Innovations also offers a maintenance plan for all of our automated security gates. You wouldn't purchase a car without securing a maintenance plan, and we believe our automated gates should be treated the same way. When you sign up to one of our security gate maintenance plans, you can be sure that your gate will run hassle-free, and function at full capacity at all times. No intruder will be given an opportunity to enter when you make sure of Glow Innovations maintenance plans.
When you make use of a GatePlan™ service contract from Glow Innovations you can be sure of the following:
No Gate Breakdowns And Faults: When your security gate is well-maintained, you won't have to worry about your gate suddenly breaking down or not functioning properly when you need it. Nobody wants to get stuck outside in the rain because their gate refuses to open. With Glow Innovations; maintenance plans, we will ensure that your gate never breaks down and leaves you stranded on the sidewalk.
No Hidden Costs: When you sign up with our service contract, you can be sure to avoid all kinds of hidden labour costs and the likes. You don't want to leave your gate unprotected and unmaintained, and then have to pay a small fortune to fix it should it suddenly decide to give out. With a maintenance plan, your gate will be less likely to stop working and you won't have to pay large lump sums to fix it.
Maintenance Calls And Priority Treatment: At Glow Innovations we value our customers greatly. When you have a service contract with us, you can be sure to expect frequent maintenance calls and priority treatment from our team. We appreciate your support and would like to do our best to make sure that you get a positive customer experience when working with us.
Our maintenance plan is as affordable as R49 per month. That's an inconsequential number when you consider all the benefits you'll get from enlisting our assistance for all gate maintenance matters. So if you haven't got a gate from us yet, factor a service contract into your planning. And if you have already got a Glow Innovations security gate, then get your maintenance service started today!
Contact Glow Innovations To Organise Your Security Gate:
Get in contact with Glow Innovations to organise your very own bespoke security gate design. Let us handle everything from installation to maintenance so that you can enjoy a stress-free lifestyle without having to worry about the security of your private property. If you already have a security gate installed, why not take a look through some of our other interesting offers.
Glow Innovations are trusted manufacturers of a variety of steel products, and all of our wares are built to be durable, sturdy and completely reliable. Whether you're looking for a unique set of balustrades for your balcony, or you want to add some electric fencing around your property, Glow Innovations has you covered. Let us help you give your property the protection it deserves, and handle all the ins and outs of installation and maintenance as well.