Do you want to add steel balustrades to your home? This is the perfect way to add safety and style to your balcony, staircases and walkways. Glow Innovations will ensure that you do not have to worry about the installation process.
We will ensure that the entire process is done correctly and safely. We follow local building codes and we create only durable and aesthetically pleasing balustrades. We also assist our clients with designing the perfect custom balustrades for their homes. Take a look through this quick guide to learn everything you need to know about our balustrades.
What is the difference Between Steel Balustrades and Balusters?
A balustrade connects the handrails and base rails of staircases as well as fills up the spaces between both. Balustrades are made up of balusters or spindles and posts, post caps, bottom rails and decorative finials.
A baluster is an upright piece between the railing and other materials such as wood or floor which adds additional support and safety to the entire staircase or balcony. These posts are short and decorative and are used to support the top rail.
How Are Steel Balustrades Installed?
When building a new home, balustrades are one of the last elements that should be installed. All you need to do is choose a design that you love from Glow Innovations and we will handle the rest.
The first step for installing balustrades is to mark out where the balustrade is going to be installed. Marks will need to be made everywhere and a hole needs to be drilled.
Each hole will need to be measured before it can be drilled. It will be best to start with a ⅛ drill bit to make sure that the holes are not too big. If the holes are too big this may complicate the installation process.
Once we have drilled the holes to the necessary size, we can then assemble the balustrades using a spanner and locks. We will ensure that everything is secure before the installation.
Once everything is secure we will then install the balustrades. Your newly renovated home will then be complete.
This is a very simple guide to installing balustrades. However, with Glow Innovations, you will not have to give the installation process a second thought because we will have everything covered on your behalf.
Regulations to Follow When Installing Steel Balustrades for Staircases
Before installing balustrades there are a few regulations that should be considered. These regulations include:
Staircases that are more than 100mm wide should have a balustrade on both sides. This is important to ensure that anyone using the staircase is protected in the case of a fall. Anyone using the staircase will be protected on both sides.
Balustrades should have a height of 900mm starting at the pitch line of the stairs to the landing. On the other hand, if the staircase is used for communal purposes the height should be 1100mm.
With all parts of staircases, there should not be any gaps within the balustrade or between the spindles.
Balustrades should be connected to the stairs when it reaches 600mm off the ground. Balustrades do not need to be connected to the first two steps of the staircase, for example, it does not need to connect to the curtail or bullnose bottom steps.
What is the Best Way to Maintain Steel Balustrades?
It is very exciting to examine your house once your new balcony or staircase balustrades have been installed. After this, all you need to do is maintain them. There is no need for you to clean them often, aside from a light dusting, but cleaning them every now and then can help with longevity.
Simply using water and a cloth is probably the easiest way to do this. Using warm water and a cloth is the least risky way to clean your balustrades. Once they are clean you can wipe them down with a cloth to avoid leaving behind watermarks.
Mild detergents such as dishwashing liquid and a cloth will also do the trick. This option works best when you have not cleaned them in a while or if you have noticed any corrosion or contamination marks.
This option can effectively clean tough dirt without damaging the balustrades. After you have done the cleaning ensure that you thoroughly wipe the surface to avoid stains and spots. This can be done with a towel.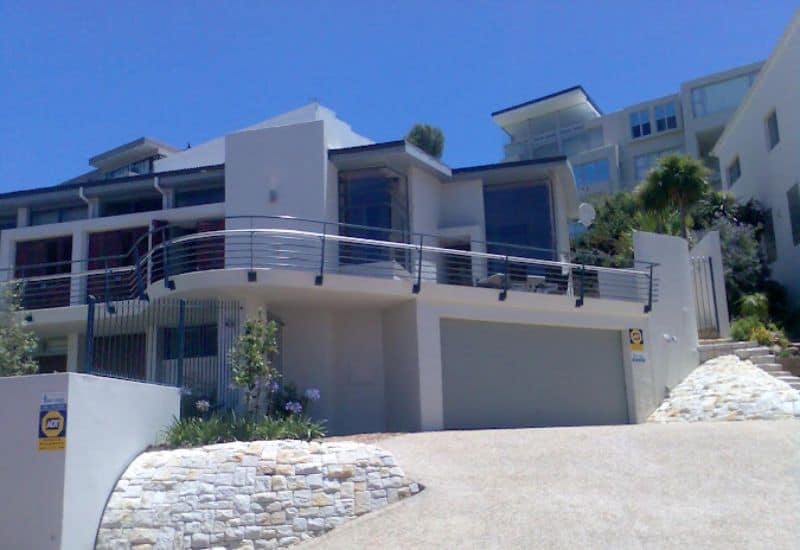 If you have glass balustrades you can simply use glass cleaners to remove any fingerprints. Fingerprints on glass can be very frustrating, so cleaning the glass may be something that you may want to do more regularly.
Moreover, glass cleaner can also be used to clean fingerprints that are left on balustrades. After wiping everything down with a glass cleaner, rinse the surface and dry it with a towel to avoid any unwanted marks.
There are different types of finishes for balustrades that can prevent fingerprints altogether. This is definitely something you can look into if fingerprints are one of your pet peeves. Lastly, using a stainless steel cleaner also works brilliantly.
If any part of your balustrade has been scratched or stained you will need to polish it. A stainless steel cleaner is an option for this. These cleaners can help reduce visible scratches and remove stains.
They also work very well when it comes to polishing steel. When using a stainless steel cleaner make sure to read the instructions on the container before using it and test it in a spot that is not visible. Once you are finished using the cleaner, rinse and dry thoroughly.
What Are the Advantages of Steel Balustrades?
Steel balustrades are not only stylish, but they have many other great benefits. When they are installed correctly, they guarantee safety. They are also very low maintenance and environmentally friendly.
Having steel balustrades in buildings, on balconies, and on walkways adds extra protection. In the case that someone trips over their own feet, the balustrades will be there to prevent the person from falling over.
Steel balustrades are also low maintenance. The steel that is chosen for the balustrade ensures that the overall product will not require frequent maintenance. These balustrades are non-corrosive and they have hygienic properties.
Even though these balustrades require little maintenance, it is good to keep your balustrade clean. A mixture of warm water and a mild detergent will do the trick. If there are any marks you cannot get rid of on your balustrade, don't hesitate to contact Glow Innovations.
Another amazing benefit of steel balustrades is that they are environmentally friendly. Steel is 100% recyclable and can be used over and over. Steel is one of the most common materials used in sustainable designs.
Furthermore, steel balustrades are extremely strong and durable. These balustrades can last for 10 years without needing frequent maintenance. Depending on the design you choose, these balustrades can help your home or business look more modern and aesthetically pleasing.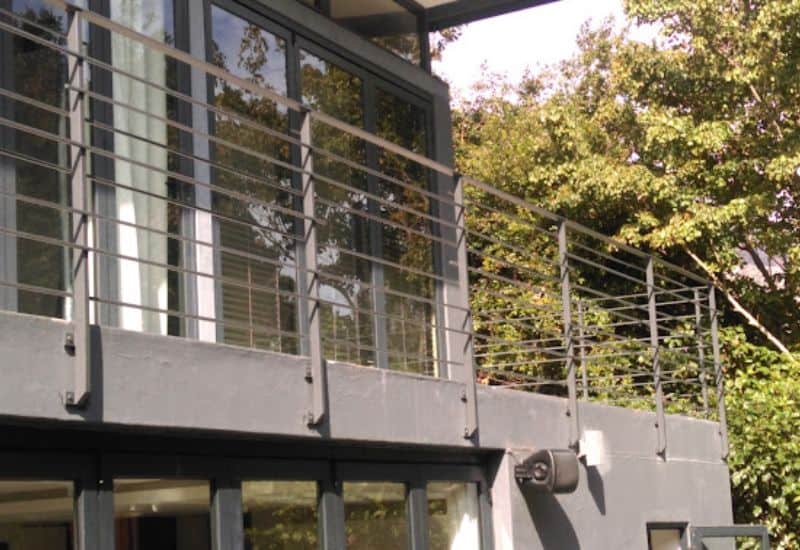 Steel balustrades that have a powder coating or that are galvanised are ideal. These balustrades are weather-resistant. They are perfect for the outdoors as they can withstand extreme weather. During each season you can rest easy knowing that they will not get damaged easily.
These balustrades can be used in different areas such as staircases, footbridges and central atriums. There are many different materials that can be used for balustrades, however, all the benefits of steel make this material the best option.
What Are the Different Styles of Steel Balustrades for Staircases?
Glow Innovations offers different styles of balustrades. This makes it easy for our clients to find balustrades that will fit in perfectly with the styles of their homes. These different styles include the following:
Steel balustrade spindles have equal or custom-spaced steel rods that are placed vertically. These balustrades are installed either under a handrail or from the ceiling and then onto the chosen staircase.
Steel balustrade bars can be customised into various different designs. These balustrades are perfect for modern staircases. They are also protected by a coating to avoid deterioration.
Balustrades for Child Safety
If you have children, you know that it is your top priority to make sure that your home is safe for them. It is inevitable that your children will eventually start walking and exploring your home. This is why it is important to have balustrades on your staircases and balconies.
It is a big concern for all parents that their children may fall off their staircase and seriously injure themselves. Luckily, there are many child-friendly steel balustrade ideas available that can be incorporated into your home.
Customising a child-friendly balustrade can be difficult especially if you do not know all the necessary regulations that need to be followed. Glow Innovations will help you customise child-friendly balustrades for your home.
Before you can begin the customisation process, you will need to know what regulations need to be followed. This will ensure that your child-friendly balustrades meet all the necessary requirements.
According to South Africa's National Building Regulations, all balustrades cannot be less than 1m high. In the case of child-friendly balustrades, you can raise the height to 1.1m or 1.2m. This may be something to consider if you are worried about your children climbing where they shouldn't.
Another regulation that is important to follow is that an object of 100mm or more should not be able to pass through any area of the steel balustrade. This regulation will ensure that your child will not be able to move through or fall through these gaps.
Another thing to consider is whether you want horizontal rail balustrades in your home. These balustrades make it easy for children to climb over, so are heavily advised against if you have children in the house.
However, if this is the style you wish to have, there are changes that can be made to make it child-friendly. The height of the horizontal balustrade rails can be raised to increase safety for your children.
If increasing the height of the horizontal rails is not an option there is another solution, a cranked handrail can be installed on your steel balustrade. This will help prevent your child from being able to climb over the rail.
Steel Balustrades: About Glow Innovations
Glow Innovations was established in 2001 and has been manufacturing and installing high-quality steel products all over Cape Town. We work hard to design products that suit all the needs of our clients.
Our factory is located in Diep River, Cape Town. We only work with reputable suppliers and our clients are guaranteed high-quality workmanship.
We have many different products to offer our clients. We do not only offer steel balustrades. The products we offer include burglar bars, security gates, pedestrian gates, and driveway gates or fencing.
If you would like to enquire about either of these products, contact us and we will gladly provide our expert advice. We also offer our clients free and zero-obligation quotations.